Magnum
[[File:|250px]]
'
Autobot
Information
Function
Autobot High Council - Military Affairs
Motto
"Success is dictated by the dependable soldier."
Alternate Modes
Haughty Hauler
Series
Transformers: Timelines

Magnum is a fictional character in the Transformers series.
Transformers: Timelines
Magnum was a commander of the Autobots 9 million years ago.
Fun Publications
Magnum is one of the characters featured in the Transformers: Timelines story "Wings of Honor" by Fun Publications. In the early day of the last great Cybertronian war the Eight Track was ordered by Autobot commander Magnum to recover the secret cargo of the Autobot ship Van de Graaff, which had been downed by unknown forces, before the Decepticons could gain the cargo for themselves. Upon completion of their mission Thunderclash, Flak, Kup and Landshark were awarded with the honor of becoming the first members of the Autobot Elite Guard by Magnum.[1]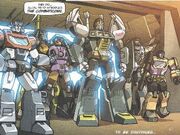 Magnum appeared in "The Coming Storm." The Elite Guard Alpha Team and Strike Team did battle against a horde of ferrovorous bugs in one of Cybertron's city-states. Magnum then ordered the Strike Team to escort the Alpha Team to Space Port Bravo for their next mission. The Strike Team then reported to Magnum and Sentinel Major, who introduced them to the new Elite Guard Special-Ops Team, also called the Combaticons.[2] While on patrol Onslaught told Metalhawk the story of how his Elite Guard team captured Thunderwing. Metalhawk then told Onslaught about how his team captured Blue Bacchus. The teams of Elite Guardsmen then came across a Decepticon who was separated from his group. Brawl was able to get the location of a Decepticon base from the captive before he went offline. The Guard teams fround the base and were able to kill Shadowcaster, the base's leader. Metalhawk's team reported to Magnum, but the Combaticons stayed to investigate, Onslaught thinking their victory was too easy. They were captured by Decepticons.[3]
Magnum appeared again in "Battle Lines." When Decepticon forces lead by Deathsaurus ambushed the Autobots lead by Magnum, Thunder Clash had to save Magnum from Lyzack. [4]
References
Ad blocker interference detected!
Wikia is a free-to-use site that makes money from advertising. We have a modified experience for viewers using ad blockers

Wikia is not accessible if you've made further modifications. Remove the custom ad blocker rule(s) and the page will load as expected.