Template:Multiple issues The following is a list of Teenage Mutant Ninja Turtles characters.
Principal characters
The following principal characters and groups have their own pages. These links are organized alphabetically, by both first name and surname. All other characters will be listed alphabetically by first name, surname, and title.
Leonardo
Michelangelo
Donatello
Raphael
April O'Neil
Baxter Stockman
Bebop and Rocksteady
Casey Jones
Foot Clan
Hamato Yoshi (Splinter)
Karai
Krang
Leatherhead
Mei Pieh Chi
Mighty Mutanimals
Rat King
Shredder
Splinter
Tokka and Rahzar
Triceratons
Utroms
Venus de Milo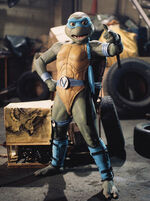 Venus de Milo was a female Ninja turtle who appeared in Ninja Turtles: The Next Mutation. In a 2007 interview, director Kevin Munroe elaborated on the instructions Peter Laird gave to him for TMNT. Munroe admitted that among those rules was, "There's absolutely no mention of Venus de Milo, the female Turtle. You can't even joke about that with Peter. It's just one of those things that he hates with a passion."[1][2]
Crossover characters
Several characters from other comic book series have crossed-over into the TMNT universes. Notable appearances are listed below:
Savage Dragon
Usagi Yojimbo
Usagi Yojimbo is a samurai rabbit and master swordsman from an alternative universe's 16th century Edo Period in Japan, where animals are the dominant species, not humans. He appeared in two episodes of the 1987 series. Usagi Yojimbo is a comic book series created by Stan Sakai starring the ronin hero rabbit, Miyamoto Usagi, which had several crossovers with the TMNT comics; apparently the TV show writers did not understand the distinction and misnamed the character after the comic book. The character returned for the 2003 animated series with his actual name, Miyamoto Usagi, and became a friend and close ally of the turtles, especially developing a strong friendship with Leonardo, since both are swordsmen. Leonardo also ended up in Usagi's dimension when Ultimate Draco scattered the five mutants to different parts of the multiverse.
References
it:Lista dei nemici di Tartarughe Ninja
nl:Lijst van personages uit Teenage Mutant Ninja Turtles pt:Anexo:Lista de personagens de Teenage Mutant Ninja Turtles ru:Список персонажей (Черепашки-ниндзя) sv:Lista över rollfigurer i Teenage Mutant Ninja Turtles
Ad blocker interference detected!
Wikia is a free-to-use site that makes money from advertising. We have a modified experience for viewers using ad blockers

Wikia is not accessible if you've made further modifications. Remove the custom ad blocker rule(s) and the page will load as expected.