Haruna Kisaragi

Corrector Yui character

[[|250px]]
Haruna in her Corrector form as seen in the anime.
Creators
Kia Asamiya
Keiko Okamoto
Voiced by
Yuko Kagata (Japanese)
Profile
Series
Corrector Yui
Aliases
Corrector Haruna
No Title
[[|250px]]
Haruna in her Corrector form as seen in the anime.

No Title

No information
Haruna Kisaragi (如月 春菜, Kisaragi Haruna?) a fictional character in the anime and manga Corrector Yui.
She's Yui best friend. She was supposed to be a corrector, but I.R. confused her with Yui, thanks to Grosser's intervention.
Description
Living a parallel life to her best friend Yui, Haruna spends little of her time or attention on her absentee parents or on her easily-completed schoolwork, preferring instead to decipher the complexities of ComNet. She has a polite, calm, very shy and caring personality. Her intelligence and innate ability with computers makes her a perfect candidate for Corrector, as expected by her uncle Dr. Inukai. From the beginning she was supposed to be a corrector, but I.R. confused her with Yui, thanks to Grosser's intervention.
Dr. Inukai then managed to contact Haruna and offered to pass the Corrector tasks and abilities to her; she learned that her best friend Yui was a Corrector, and accepted the task to spare Yui from danger. In the process, however, she got manipulated by Grosser, which turned her into Dark Angel Haruna, but she was eventually saved by Yui.
In the 2nd season, she again returns as a Corrector to assist Yui, first when Yui got petrified by infected insects, and later, when she helps Yui until the end of the 2nd season.
Friends
Yui Kasuga
Haruna's best friend. She has a positive outlook, loyalty, and sympathy to anyone and everyone. She's a Corrector. Haruna wishes to be like Yui.
Reiko and Akiko
Haruna other best friends.
Love Interests
Takashi Fuji
Haruna's love interest. His demeanor contrasts with Haruna, often making him a joke target by Yui and her peers, though he is a nice boy at heart.
Suits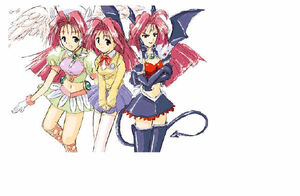 Haruna used one Corrector Suit, the four Elemental Suits and one Corruptor Suit (when she is controlled by Grosser).
Her Elemental Suits have differences from the other Correctors' Elemental Suits:
External links
Ad blocker interference detected!
Wikia is a free-to-use site that makes money from advertising. We have a modified experience for viewers using ad blockers

Wikia is not accessible if you've made further modifications. Remove the custom ad blocker rule(s) and the page will load as expected.