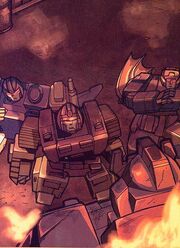 The Chaos Trinity is the name of a small Decepticon faction that appeared in Dreamwave's War Within series. [1]
History
When Megatron and Autobot leader Optimus Prime disappeared in an accident with a Space Bridge, the Autobot and Decepticon forces splintered into smaller factions. Bludgeon became leader of the Chaos Trinity, which was composed of him, Bugly and Mindwipe. The Chaos Trinity was devoted to expanding its members' knowledge of the mystic arts. The Chaos Trinity acted as master manipulators, tricking others into doing their work for them. For instance, when Shockwave's faction developed Trypticon, the Chaos Trinity tipped off the Autobots under Prowl where it was being tested. The Chaos Trinity came into the service of the Fallen, an ancient Transformer who betrayed Primus and was now an agent of Unicron. The Fallen promised to expand their mystic powers in return for their loyalty, after threatening to kill them if they didn't join him. Attacking a meeting between Jetfire and Shockwave, hypnotising the former and incapacitating the latter, they were then beaten by Grimlock, who had come because he believed that Jetfire was betraying them. However, this was all part of a bigger plan set-up by the Fallen, who easily defeated the Dinobot leader. Then battling the Protectobots and kidnapping Hot Spot, the Trinity took him to the Fallen for an arcane ritual. However, they were attacked by Shockwave's Decepticons. Shockwave personally gunned down Mindwipe, with Bugly falling to a combined barrage. Bludgeon fled, but was blasted by a teleporting Skywarp.
References
Ad blocker interference detected!
Wikia is a free-to-use site that makes money from advertising. We have a modified experience for viewers using ad blockers

Wikia is not accessible if you've made further modifications. Remove the custom ad blocker rule(s) and the page will load as expected.